5 Quirky Things to do in London This Christmas
Things To Do In London - 11-Dec-2019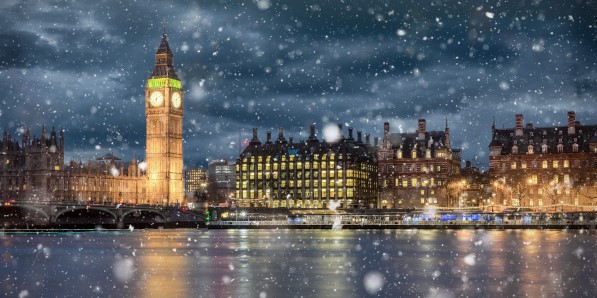 As well as taking in all of London's beautiful Christmas markets, or exploring the city to scope out the very best ice-skating opportunities, there are plenty of lesser-known, quirky, festive things to do in London. From baking competitions to human curling - yes, really - we've been looking into the most unusual Christmassy things to do in the capital in 2019.
1. Christmas Day Swimming Race at Hyde Park
View this post on Instagram A post shared by Ben Winch (@thewinch84) on Dec 25, 2018 at 12:41pm PST
Although this amusing event is not open to the public to join (Serpentine Swimming Club) members only, anyone can come along and watch. The Peter Pan Cup competition has taken place every year on Christmas Day since 1864, and has become a high-regarded festive institution in London. Why not don your warmest woollies and wellies and go along to Hyde Park on the big day? Enjoy watching the bravest of the brave face the icy cold water in The Serpentine lake!
Closest Grange: Grange Strathmore
2. The Great Christmas Pudding Race
View this post on Instagram A post shared by The Times and The Sunday Times (@thetimes) on Dec 7, 2015 at 1:09am PST
This hilarious event is hosted by Cancer Research UK, in Covent Garden. Take part or go along and watch as teams take on a relay race chock full of various obstacles and challenges, from inflatables and foam to jigsaws and tree decorating. All while attempting to balance a Christmas pudding on a plate, and dressed up in fancy dress! All participants must be over 14, and teams are made up of 5 people, making this one thrilling Christmas activity for all your friends and family.
Closest Grange: Grange Buckingham
3. Museum of Architecture's Gingerbread City
View this post on Instagram A post shared by MoA Museum of Architecture (@museumofarchitecture) on Dec 8, 2019 at 4:45am PST
Somerset House will once again be exhibiting a wonderfully quirky and atmospheric event; the Gingerbread City. Made up of the work of more than 100 architects, engineers, and designers, 2019's exhibition is based on transport. Come along and see what this year's leading architectural minds have constructed entirely out of gingerbread, and even take part in one of the gingerbread house-making workshops.
Closest Grange: Grange Lancaster
4. Curling on Ice
View this post on Instagram A post shared by QUEENS • skate • dine • bowl (@queens_skate_dine_bowl) on Jul 23, 2019 at 11:03am PDT
Everyone's favourite Winter Olympics event, curling, really comes to life in Queens, London. Take part in something you may never have even thought of this festive season, at this retro venue near Hyde Park. As well as curling, other activities here include ice-skating, bowling, arcade games and pool.
Closest Grange: Grange Strathmore
5. The Big London Bake
View this post on Instagram A post shared by The Big London Bake (@thebiglondonbaketooting) on Nov 30, 2019 at 10:27am PST
Challenge your friends or simply go along to test your skills at this baking competition in Tooting. December is Festive Yule Log month, so grab a partner and go along to the tent to see what Christmassy creation you can make in 90 minutes. This family-fun style activity is one of our favourite original things to in London, which just about everyone can get involved in.
Closest Grange: Grange Strathmore
While we've no doubt that you'll want to spend time Christmas shopping in the capital, make sure you find time to fit in one of these five Christmas activities in London. Make memories with friends and loved ones, turning the weekend into an event with a stay at one of our Grange Hotels.