Best London Christmas Markets 2019
Christmas - 03-Dec-2019
Best London Christmas Markets 2019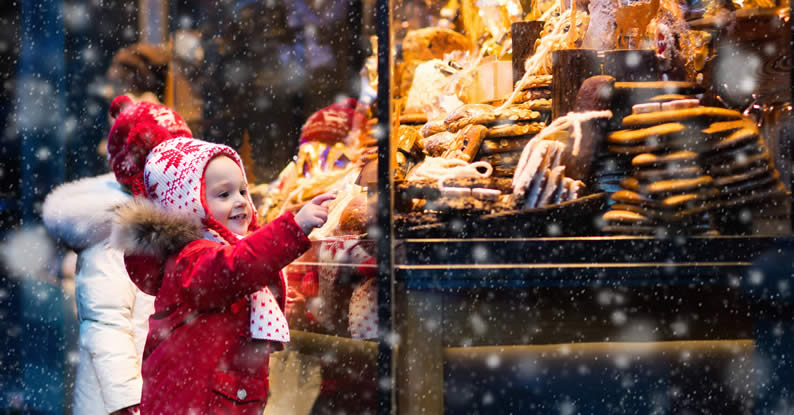 Now we've reached December and Christmas lights are switched on around the capital, it's the prime time to start your Christmas shopping!
The markets are soon to pop up around London, and whether you've visited them before or not, they're a truly magical experience every time. You'll find tasty treats and cultural crafts galore - all surrounded by the stunning London city backdrop.
So, without further ado, take a look at our top picks for 2018's London Christmas markets!
When do the 2019 London Christmas Markets Start?
The London Christmas market start dates are as follows:
Christmas in Leicester Square 2019 - November 8th
Winter Wonderland 2019 - November 22nd
Southbank Centre Wintertime Market 2019 - November 8th
Christmas By The River 2019, London Bridge City - November 26th
Christmas under the Canopy Market 2019, King's Cross - November 29th
Our Christmas Market Picks
1. Christmas in Leicester Square
Leicester Square's Christmas market is the perfect Christmas shopping destination. Visitors will be surrounded by a festive, twinkling atmosphere of stalls, and can enjoy Santa's grotto and a collection of Christmas shows. In the square you'll witness around 25 bustling food, drinks, and gift stands packed to the rafters with unique stocking fillers, decadent delights and festive cheer. It's free to enter, why not pop on down? Find out more.
View this post on Instagram A post shared by Erin Zimmerman (@doubleagent745) on Nov 29, 2019 at 6:27am PST
Nearest Grange Hotel - Grange Buckingham
2. Winter Wonderland - Hyde Park

Not only is Hyde Park's Winter Wonderland famous for its festive ice skating and stunning ice bar, it's also home to some of the best Christmas market stalls that London has to offer!  With over 200 Bavarian-style wooden chalets illuminated by twinkling fairy lights, you're bound to find the perfect gift for a loved one, and certainly a few treats for yourself.
View this post on Instagram A post shared by Winter Wonderland (@hydeparkwinterwonderland) on Nov 28, 2019 at 12:12pm PST
At Winter Wonderland Hyde Park you'll find jewellery, clothing, arts, crafts, delicious culinary delights, Christmas decorations and more! So wrap up and get exploring. Find out more.
Nearest Grange Hotel - Grange Langham Court
3. Southbank Centre Wintertime Market
A part of the free-to-enter Wintertime at Southbank Centre festival, the Southbank Centre Wintertime Market is full of surprising stocking fillers, tantalising treats, tasty tipples and much more. Once you've seen all there is to offer around the glowing wooden chalets, you can go and enjoy the rest of the festival. Offering up a plethora of pop ups and fun activities along the Southbank, you can also book to dine in one of the four igloos at Jimmy's Lodge - the perfect way to wind down after a long session shopping! Find out more.
View this post on Instagram A post shared by Southbank Centre (@southbankcentre) on Nov 27, 2019 at 10:31am PST
Nearest Grange Hotel - Grange Buckingham
4. Christmas by the River
With stunning views of Tower Bridge overlooking the glistening Thames, Christmas by the River is renowned for being one of the most picturesque Christmas markets in the capital. You'll find artisan gifts, plenty of samples - including Christmas puddings – and opportunities to simply relax with a glass of mulled wine as you take in the jolly atmosphere.
View this post on Instagram A post shared by At London Bridge (@atlondonbridge) on Nov 22, 2019 at 4:06am PST
Not only is there plenty for you to buy, there's also festive workshops for you to get involved in - ideal if you're looking for a unique gift or some festive inspiration! Find out more.
5. Christmas under the Canopy Market, King's Cross

Famous for its independent food and crafts, the Canopy Market in King's Cross is getting into the Christmas spirit, hosting festive events throughout the season. Go along to enjoy a unique spin on festive fare, with crafty workshops, carols and live music, and a mulled wine bar.
View this post on Instagram A post shared by Canopy Market (@canopy_market) on Nov 28, 2019 at 12:00pm PST
Workshops this year include a Ceramic Christmas Star demo, a seasonal house plant workshop, and Christmas cake making. Get involved and take home your very own festive creations. Find out more.
Nearest Grange Hotel - Grange Fitzrovia
There's no denying that one of the best parts of Christmas present-hunting is dropping off all your goods after a hard day's shopping! Luckily, Grange Hotels has a wide selection of boutique hotels dotted across London, and within a stone's throw of landmark locations such as the British Museum.
Discover more about Christmas in the capital, with our guide to the best Christmas lights, and more on the top spots for Christmas shopping.
Our hotels are waiting to welcome you in from the cold to relax and unwind in affordable luxury, leaving a little more in your pocket to spend on market treats.  Book today!