5 Unique Cinemas in London
Holiday - 03-Oct-2019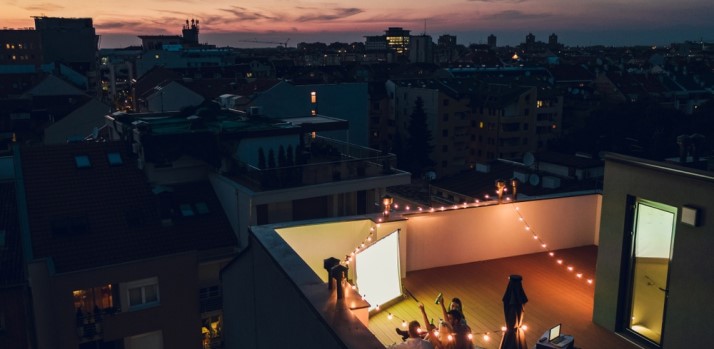 London is jam-packed with unique and exciting things to do, so we've decided to take a look at the quirkiest cinema venues in the city. From the highs of the sky to below the arches of a railway line, we've got it all covered, so it's time to get your blanket on, popcorn in your hands, and put your feet up!
1. Electric Cinema Portobello
Electric Cinema Portobello is especially unique because it's one of the oldest working cinemas in England, opening its doors back in February, 1911. Unlike your typical Vue, its eye-catching red leather seats and cashmere blankets give that real Edwardian feel. If you like taking a step back in time to the glamour of days gone by, this is the place to visit.
View this post on Instagram A post shared by Table Four Two (@tablefourtwo) on Jun 24, 2018 at 11:43am PDT
2. Rooftop Film Club
Rooftop Film Club offers the ultimate open-air film experience. With city views, personal headphones, iconic films, deckchairs and cosy blankets there's nothing else quite like it. There are locations in Peckham, Shoreditch and Stratford so you can enjoy spectacular views all over the city while you sit back to watch your favourite films.
View this post on Instagram A post shared by Rooftop Film Club (UK) (@rooftopfilmclub) on Sep 27, 2018 at 8:39am PDT
3. Backyard Cinema
Backyard is the UK's only themed cinema, designed to transport you to another world. Visit their 'Winter Night Garden' where you can walk through a lit up forest into the hidden cinema in the autumn months, or see their 'Miami Beach' in the summer months. Both are designed to give you an enchanting, unique experience. With tickets starting from £18.99pp, this is one of the most affordable spots in London if you're looking for unforgettable entertainment.
View this post on Instagram A post shared by Backyard Cinema (@backyardcinema) on Sep 7, 2019 at 5:00am PDT
4. Selfridges Cinema (this one isn't actually open yet . . .)
That's right; our favourite luxury department store is opening its own cinema this November. Get ready to shop, drop, camera and action! Selfridges recently made this exciting announcement on Instagram, and we can't wait to find out more about what they've got in store. The project is a result of their partnership with Olympic Studios, an independent boutique cinema group.
View this post on Instagram A post shared by Selfridges (@theofficialselfridges) on Sep 10, 2019 at 2:57am PDT
5. Whirled Cinema
Whirled Cinema is based under the arches at Loughborough Junction. The venue has a real vintage feel with its arched, cave-like roof and red leather seats. It has a rooftop terrace which can be enjoyed before or after your film, with drinks and snacks available at the bar. Although it's a members-only cinema, it is very affordable. You can pay up front for an annual membership starting at a £99, pay monthly from £9.99, or even just opt for a one week membership price of £12. Membership fees cover all the films you want to watch and some allow you to bring a friend along for free too!
View this post on Instagram A post shared by Whirled Cinema (@whirledcinema) on Aug 18, 2019 at 9:58am PDT
If you want to make a real event of your cinema trip, check out our overnight offers. Whether you want a room for romanceor you're just booking in advance, make sure you take a look at our deals for up to 15% off accommodation prices.