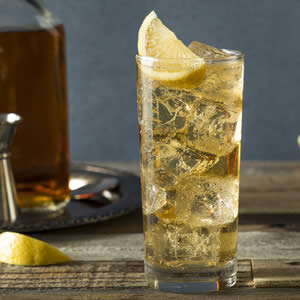 Highball
A great aperitif and a simple way to let whiskey do its thing without overpowering you. A highball is a tall drink that is delicious in its simplicity.
Ingredients
• 40ml whiskey
• Soda or sparkling water
• Lemon
Method
Fill a tall glass with ice. Add the whiskey and stir with a spoon to cool it. Top up with soda, stir and garnish with lemon.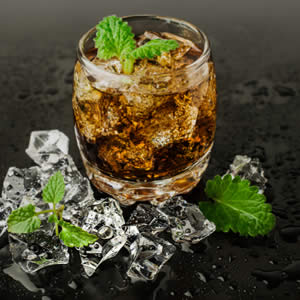 Bourbon Mojito
A twist on another classic cocktail, the bourbon mojito makes the best use of whiskey's unique flavour, balanced with lime and mint.
Ingredients
• 50ml bourbon
• 5ml lime juice
• 1tsp sugar
• 60ml soda water
• Fresh mint leaves
Method
Muddle together the fresh mint, sugar and lime in a tall glass. Load with ice, add the bourbon and top up with soda water.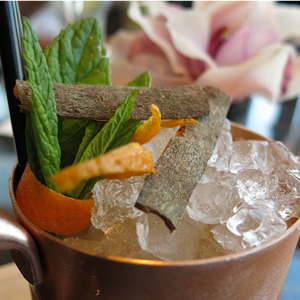 Kentucky Mule
A highly refreshing alternative to the Moscow Mule, the Southern version is garnished with mint to produce a fresh and delicious cocktail.
Ingredients
• 5oz. lime juice
• Whiskey
• Ginger beer
• Fresh mint
Method
Squeeze lime juice into a Collins glass, add 2 or 3 ice cubes. Pour over whiskey and top it off with cold ginger beer. Serve with a stirring rod.
Chancellor Cocktail
The Chancellor is a mysterious and little-known cocktail, not unlike a Perfect Manhattan, with port for the sweet vermouth and Scotch for the rye. This whiskey cocktail is best for cosy evenings and fireplaces.
Ingredients
• Whiskey
• 1oz ruby port
• 5oz. vermouth
• 2 dashes of orange bitters
Method
Stir well with cracked ice, then strain into a chilled cocktail glass; it should pour a luminous garnet red.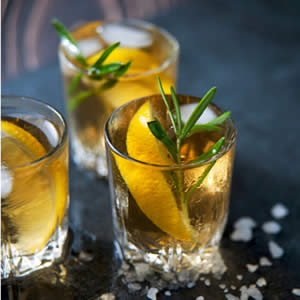 Gold Rush
The 21st century's answer to the whiskey sour, this simple cocktail is basically just an ice-cold hot toddy.
Ingredients
• 2 oz. bourbon
• 3/4 oz. lemon juice
• 3/4 oz. honey
Instructions
Combine the ingredients into a shaker and shake vigorously for 15 seconds. Pour into a rocks glass over ice. No need to garnish.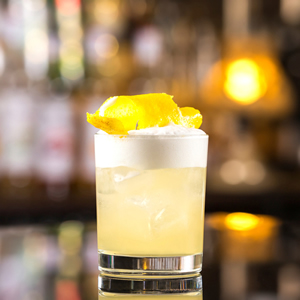 Whiskey Sour
Whiskey Sours are about as classic as classic cocktails get. Embracing the sharpness that whiskey is so well known for, the Whiskey Sour is a perfect cocktail in so many ways.
Ingredients
• 50ml bourbon
• 35ml lemon juice
• 12½ ml 2:1 sugar syrup
• 2 dashes Angostura bitters
• ½ fresh egg white
• 50p-sized piece of lemon zest
• Slice of orange and a cherry on a stick
Method
Shake all of the ingredients (except for the lemon zest) hard with ice and strain into an ice-filled rocks glass. Squeeze the lemon zest, shiny side down over the drink so the scented oils spray across the surface. Discard the zest, add the garnish and serve.
However you like your whiskey cocktails, enjoy them in style at one of Grange Hotels' fantastic bars. Book now to enjoy everything the capital has to offer!