Grange Invites You To A New Year's Eve Party
Don't get so caught up with Christmas that you forget about ringing in the New Year! Not sure what to do this year? Fear not! Grange Hotels has you covered.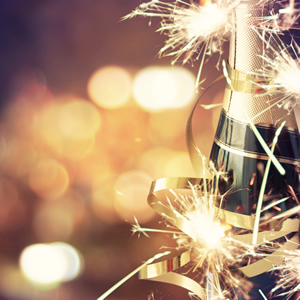 Avoid New Year's Eve Party Stress
Time is running out to plan your New Year's Eve! In just a few short weeks, 2018 will be upon us. If you're planning on hosting, have you made all your arrangements? Will you remember not eat and drink everything at Christmas, leaving nothing for NYE?If you're planning on heading out, have you booked your ticket to a New Year's Eve party and planned your travel for the night?
Don't get caught out in the cold either. The last place you want to find yourself is outside a pub or on a patio at midnight in your best dress, trying to enjoy yourself when you're actually freezing.
Just book your seat, which comes with a room for the night, get dressed up and come on down! It couldn't be easier or more enjoyable!
Booking your place at our New Years Eve Gala Dinner will allow you to:
Avoid the inevitable queues that end up snaking around down the street outside any venue on New Year's Eve in the city
Avoid the even more inevitable congestion at every bar while enjoying a Champagne reception and toast
Enjoy a delicious 5 course meal prepared by our expert, fine dining chefs
Be enraptured by exceptional live entertainment which makes a change to the usual top 40 tracks and disco ball you'll encounter elsewhere
Dodge the taxi and tube rush, and cost, at chucking out time as you instead retire to your room for a restful night in the arms of the famous Grange Hotels affordable luxury
So, if you're looking for a night you'll never forget this New Year, book your ticket now. Our fabulous New Year's Eve Gala Dinner is a great way to celebrate the arrival of 2018. If you can't make it to our Grange City hotel we are also hosting New Years Eve events at our Holborn and Bracknell hotels. Please contact our Holborn or Bracknell team for more information.