When you are looking to plan the perfect getaway, leave nothing to chance. You've booked your tickets to the latest show, dinner reservations have been made at your favourite restaurant and all you need now is somewhere to stay. Will just anywhere do? Is a hotel just a place to sleep after a magical night exploring the city?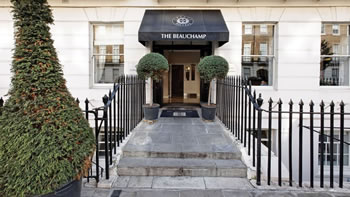 Set the stage for a night to remember
Choosing the right hotel adds an extra dose of magic to a city escape. Imagine you've booked tickets for the opening night of Hamilton. The Broadway smash promises to be a night to remember when it hits the West End and should not be missed for anything. Why risk being trapped in a busy restaurant, trying to catch the eye of a waiter so you can pay just minutes before the show starts?
Accept an invitation to Beauchamp Place at the Grange Beauchamp Hotel and enjoy a pre-theatre dinner. Escape the bustle of busy restaurants with an exclusive meal in the comfort of our private garden. We'll make sure you make it to the show on time.
Come in and unwind
When you have travelled across the country for that special weekend, you are tired and relieved to arrive at your hotel. Before you can explore everything the city has to offer, take the time to recharge your batteries. Unwind with a spa treatment and let those travelling aches just melt away, leaving you refreshed and ready to make the most of your vacation.
At the Grange St. Paul's Hotel, you can enjoy an indulgent spa and beauty treatment from the exclusive Ajala Spa. Treat yourself to real relaxation that gets you into a holiday state of mind. Before jumping into the excitement and thrills of a weekend in the city, take the time to let go of the week you are leaving behind.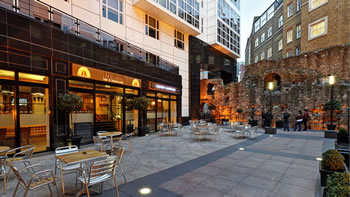 Immerse yourself in everything the city has to offer
If your plan is to explore the rich and fascinating history of London, choose a hotel that lets you immerse yourself in the history and culture of the capital. Whether you are a lover of the opulent lushness of a Victorian or Georgian townhouse, or want to dig deeper into the past, a hotel that allows you to embrace history turns your trip into a weekend you will never forget.
Our luxury hotels are located in the heart of London, perfectly embracing the style and culture of the city itself. Many of our hotels are converted Victorian edifices, with design touches that allow you to experience the luxury of the past, with all the conveniences of a modern hotel. For lovers of ancient history, visit the Grange City Hotel to reach out and touch the past. Reflecting its historic location, the hotel site incorporates the last remaining section of London's Roman Wall, which stands undamaged from when it was originally patrolled by Roman Centurions.
Your hotel is so much more than a place to sleep
When you are looking to enjoy a weekend away in the city, choose a hotel that truly captures the occasion. Your hotel should enhance and enrich your getaway, not just facilitate it. Grange boasts a variety of boutique hotels as rich and varied as London itself. So next time you're looking to book a weekend away, remember that your hotel is so much more than a place to sleep. You can find more tips and ideas on how you can make the most of your city break by liking us on Facebook and following us on Twitter.