6 Things You Might Not Know About Madame Tussauds
Things To Do In London - 24-Sep-2019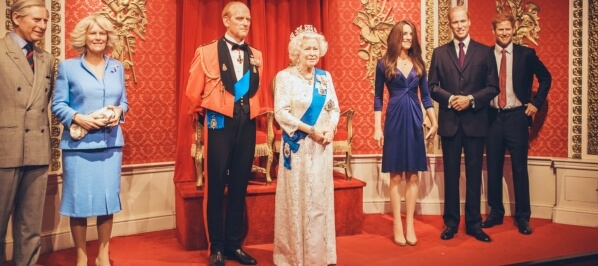 It was founded by Marie Tussaud
Madame Tussauds is a museum chain for life-size wax replicas of celebrities, royals and historic icons that has 21 worldwide Locations, with its largest museum in London. It was founded by wax sculptor Marie Tussaud who was born in Strasbourg, France in the 1700s. She had learned the art of sculpting from her mother's employer, Dr.Philippe Curtius, a physician skilled in the art of wax modelling. Her first sculpture was Francois Voltaire, which she made at the age of 16.
Following Philippe's death on 1794, Marie inherited a vast collection of wax models and spent the next 33 years travelling around Europe. By 1835, Marie settled down in Baker Street, London, where she opened her first museum. You can see Madame Tussaud in her own museum as she did her own portrait in wax just 8 years before her death.
1. It takes up to six months to create a sculpture
The process of creating a Madame Tussauds wax figure is intricate. It takes more than 250 precise measurements and photographs, 2,400 lbs of wax, 20 skilled artists and around £150,000 to make each of the portraits.
2. All portraits displayed in Madame Tussauds have their hair washed and make-up retouched regularly
Before opening every day, all sculptures at Madame Tussauds are checked over by two maintenance teams, with their hair washed and their make-up touched up. Which is likely to be very similar to the treatment they have in real life!
View this post on Instagram A post shared by Madame Tussauds London (@madametussauds) on Jan 18, 2017 at 8:58am PST
3. All figures are made 2% larger than the person really is
During the procedure, all wax figures are made 2% larger than the actual person as this is how much they're predicted to melt during the entire 6-month process. Although, some celebs may request to be made a little larger than 2%.
4. Madame Tussauds now features Vloggers
You can now step into the 'Vlogsphere' of the digital age in Zoe Sugg and Alfie Deyes' bedroom and sit beside them where they frequently blog from. Zoe and Alfie were very involved in the creation of their wax figures and so were their fans, from choosing Zoe's lipstick colour to Alfie's t-shirt, fans voted through polls to help create their likenesses.
5. The first overseas branch of Madame Tussauds is in Amsterdam and opened in 1970
After popular demand, there are now 21 Madame Tussauds worldwide, with six based in the USA, and museums in Beijing, Tokyo and Australia. But London still remains Madame Tussauds biggest museum.
View this post on Instagram A post shared by Madame Tussauds Sydney (@tussaudssydney) on Sep 7, 2019 at 12:10am PDT
6. There's no apostrophe in Madame Tussauds
A common mistake by many people is adding an apostrophe into Madame Tussaud's. The grammar geek inside you may believe Madame Tussauds is wrong, but it's actually not. The reason behind this is down to Merlin Entertainment Group, who decided that since Madame Tussaud no longer owns the franchise, there is no need to have a possessive-indicating apostrophe.
Madame Tussauds is located close to Grange Langham Court Hotel
Madame Tussauds is only a short 20-minute journey from Grange Langham Court Hotel. So, if you're making a trip of your museum visit come and enjoy a boutique feel at our charming 4* star nestled within London's West End. With various offers available all year round, you can save up to 12% on your accommodation and enjoy complimentary breakfast when booking 30 days in advance.